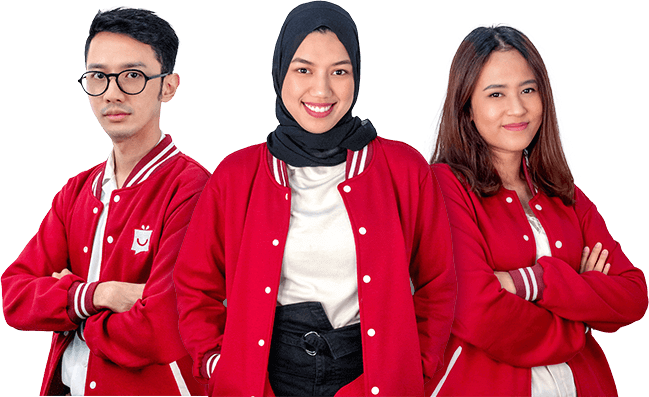 Come build the future of e-commerce with us
The company growth depends on your duties and responsibilities as follow:
Write copy for a variety of media including social media, print/online media, and online advertising
Edit and proof work to ensure high editorial standards are met across all content outputs
Collaborate with all department to assess project needs and help with crafting messages and content
Drive brand consistency across all company communications
Develop and implement brand guidelines
Stay current on trends and competitors within the editorial sphere
See projects through the whole creative lifestyle, from inception to deployment
The Essentials Skills and Traits we seek in you:
Bachelor's degree in English/Indonesian Literature, Journalism, or Communications
3-5 years of experience in editorial, content writing, or other relevant experience preferably with a media organization or digital agency
Knowledge of Microsoft Office Applications
Strong creative thinking skills and ability to think conceptually
Comfortable working independently with a little direction under tight deadlines
Excellent writing, editing, and proofreading skills with a diligent eye for detail, language, flow, and grammar
Proven ability to demonstrate brand voice
Strong attention to detail
Excellent portfolio of work
The company growth depends on your duties and responsibilities as follow:
Completing all assigned tasks and assisting with day-to-day operations.
Participating in meetings, workshops, and other learning opportunities.
Observing and learning from experienced Tokobuddies.
Gaining knowledge of company policies, protocols, and processes.
Taking detailed notes and liaising with Leads, Managers, and other senior staff.
Fulfilling any requirements and meeting goals set out at the start of the traineeship.
Following all company regulations, and health and safety codes.
Preparing documents and updating records.
Learning about conflict resolution and sitting in on disciplinary hearings.
Traveling to different offices and participating in daily operations as required.
The Essentials Skills and Traits we seek in you:
Diploma degree all major (max 1 year experience) with GPA min 3.5.
Bachelor degree all major (Fresh graduate) with GPA min. 3.0 Age max. 25 years.
Active in organization activities / other social activities.
Good in leadership skill, good communication skill, and having a strong analytical skill.
A genuine desire to learn about digital or performance marketing.
Willing to work as per company regulation, weekend & public holidays (if necessary) as part of the on the job training process.
Highly organized, good time management and the ability to meet deadlines.
Computer Literate (min Ms. Office).
The company growth depends on your duties and responsibilities as follow:
Designing and building the interface, navigation and aesthetic of websites for company's marketing strategy purpose. Your duties include, but aren't limited to, the following:
Designing website layout and placing the content
Determining technical requirements
Analyzing websites' key performance metrics
Updating websites
Creating backup files
Solving code problems
The Essentials Skills and Traits we seek in you:
Required skills: Interaction Design, Wireframing, Prototyping, CSS and HTML
Familiar with Sketch and Adobe Photoshop
Have a good knowledge of web analytics tools such as Google Analytics
Able to work in team, communication skill, leadership, taking risk, high interpersonal skill, and professional attitude
At least 4 years of working experience in Startups or Digital Agencies
Have a big attention to small details
A fast learner and able to keep up with latest design and digital trends
Highly organized, good time management and the ability to meet deadlines
Excellent English in written and verbal communication skills
The company growth depends on your duties and responsibilities as follow:
Understand entire Tokotalk service technically and opportunities and limitations, and explain to the sellers in general terms
Provide technical support to the sellers who want to onboard Tokotalk service
Diagnose and offer technical support to sellers who have issues onboarding or running their shops
Talk sellers through a series of actions, either via phone, email or chat, until they've solved a technical issue
Follow up with sellers to ensure their IT systems are fully functional after troubleshooting
Document technical procedures in the form of notes and manuals to support operation teams
Refer to internal database or external resources to provide accurate tech solutions
Escalate unresolved issues with well-described technical explanations to help internal product teams
Write small handy programs(scripts) that can help operation teams
The Essentials Skills and Traits we seek in you:
Understanding of rational database management systems especially MySQL
Understanding of Single Page Application (SPA), REST API, and Front-end & Back-end communications
Superior computer skills of general applications like web browser, mobile device, and office applications
Good communication and writing skills to explain technical stuffs to non-technical clients
Knowledge of e-commerce flows
The company growth depends on your duties and responsibilities as follow:
Analyze brand's company portfolio with the eCommerce industry market
Deliver the company full scope of services to partner brands to help them thrive in eCommerce platform
Be the Person in Charge, and responsible to maintain and develop strong relationship with third parties / vendors affiliated with the Company
The Essentials Skills and Traits we seek in you:
Diploma or Bachelor's Degree in any field
Preferred candidate with strong connection & network to main distributors and brands
Preferred candidate with an extremely credible reputation and relationships amongst suppliers and other members of the industry
At least 1 Year(s) of working experience in the related field is required for this position, preferably in E-commerce, Commerce, Retail, or Marketplace
Strong written and oral communication
Fluent in English speaking and writing
The company growth depends on your duties and responsibilities as follow:
Responsibilities
Give accurate and timely counsel to executives in a variety of legal topics (labor law, partnerships, international ventures, corporate finance etc.)
Collaborate with management to devise efficient defense strategies
Specify internal governance policies and regularly monitor compliance
Research and evaluate different risk factors regarding business decisions and operations
Apply effective risk management techniques and offer proactive advise on possible legal issues
Communicate and negotiate with external parties (regulators, external counsel, public authority etc.), creating relations of trust
Draft and solidify agreements, contracts and other legal documents to ensure the company's full legal rights
Deal with complex matters with multiple stakeholders and forces
Provide clarification on legal language or specifications to everyone in the organization
Conduct your work with integrity and responsibility
Maintain current knowledge of alterations in legislation
The Essentials Skills and Traits we seek in you:
Proven experience as a Legal Counsel in business environment
Excellent knowledge and understanding of corporate law and procedures
Full comprehension of the influences of the external environment of a corporation
Demonstrated ability to create legal defensive or proactive strategies
High degree of professional ethics and integrity
Sound judgement and ability to analyse situations and information
Outstanding communication skills
Bachelor degree in Law